Multifiber Building® is a fiber optic system that centralizes all the signals – TV antenna, satellite, telephone, internet, video door entry system, video surveillance … – in a single system inside a building.
The design and construction of this type of system was born in response to the publication of Law 164/2014, which provided that from 1 July 2015, new buildings or buildings undergoing major renovation must necessarily be equipped with a multi-service fiber optics system.
Starting from this request, Fibernet began to develop an optical infrastructure that was not only able to manage the telephone signals, but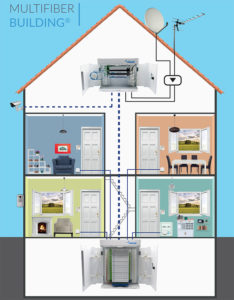 also all the other signals entering the building, even those not necessarily managed – until then – through fiber, such as satellite or digital terrestrial radio frequencies.
A real revolution in the centralization of systems: not only does fiber optic give more space and role than copper – as it is limited to a few meters between antenna and optical transmitter – but a complete infrastructure has been proposed, easy to install, ready for future applications, which do not require continuous construction work, even inside the apartments, when it is decided to add a user or an additional service.
Multifiber Building® has been designed to be able to symmetrically distribute all the signals in the building for each real estate unit present.
The system, as it was designed, conveys the signals coming from the satellite and digital terrestrial antennas, inside an optical head box, called ODB – Optical Distribution Box – , within which the signals, specially converted from electrical to opticians, they are forwarded through active devices operating between 1310 and 1550 nm to the BDB, Building distribution box.
Within the BDB, the signals are distributed, through optical splitters towards the real estate units.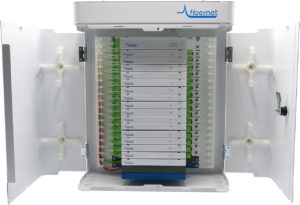 A similar procedure occurs with regard to telephone and internet signals: the operator cables are attested inside the optical distributors in the buildings and from there always connected to the BDB. This solution facilitates the activation of the utilities, which will no longer have to be carried out in the apartments but directly in the technical rooms of the building.
For all the wiring, multi-fiber cables type g.657a bend insensitive are used, which guarantee the reduction of the signal attenuation even if the installation takes place in existing conduits.
The legal requirement needs the presence, in this type of system, of at least 4 connectorized and ready-to-use optical fibers: Fibernet has chosen to use micro-cables with 8 fibers, in order to make its system ready for future applications.
Termination in apartments is guaranteed in optical studs – OTO, optical Termination outlet- pre-connected and tested in the company. The intervention inside the houses is thus limited to the bare minimum.
The Fibernet solution was the first in Italy to receive MISE certification.
Do you want to find out everything about the condominium system designed by Fibernet?  click qui
Ask information on this product: