In response to the growing market demand, linked to the development of FTTH networks, Fibernet has developed its own series of products necessary to create vertical wiring in buildings.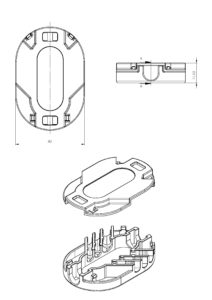 Basically, the fiber optic network, which arrived inside the building, must be distributed in each apartment. To make it possible, each network operator has developed its own infrastructure that serves, through boxes and branch units, to connect the housing unit to the primary network.
The design was started with the idea of simplifying operations for technicians as much as possible, making the intervention quick and practical, respecting the technical regulations prepared by network operators, innovating the design, so as to make the products compact and functional, but also aesthetically appealing.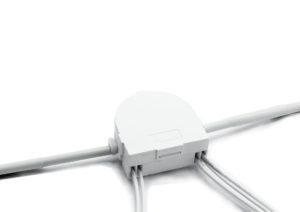 Mini riser box – with this box, at each floor, the extraction of the fibers from the vertical cable and the junction with half braces during the optical wiring of the building is carried out. It has the function of protecting and branching the outgoing fibers and covering the window that is opened in the sheath of the multi-fiber cable on each floor of the building. The paths of the extracted fibers have been designed to avoid crossings, stresses or breakages, respecting the curvature provided to avoid attenuation.
Primary branching box – Thanks to the primary branching, the separation and protection of the single fibers extracted from the multi-fiber cable is carried out and the protection of the opening window made on the cable. Designed to reduce the overall dimensions to a minimum, the fixing system of the branching tubes is designed to guarantee sealing up to 20N of applied force.
Secondary branching box – With this box, the separation of the single fibers arriving from the primary branch in the secondary distribution branches, in those buildings where a second level of distribution of the optical fibers towards the apartments is necessary. Like the primary branch, it has been designed to have minimum dimensions, ensuring maximum tensile strength of the output tubes (20N).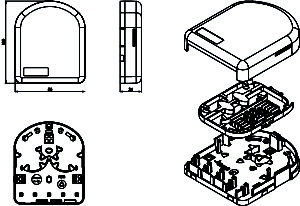 Termination box – The connection of the optical access network with the ONT terminals of the Real Estate Unit takes place in this box, prepared for the connection of up to 4 optical fibers within the same number of adapters. This termination box has been specifically designed to meet the open fiber standards st 1729: the optical termination inside the box can therefore be achieved by means of a 900 μm half-strap, with SC / APC connector with reduced length boot and jointed to fusion with the optical cable, or with field-installable SC / APC connector, directly attested on the optical cable. In addition, the internal space has been designed to allow the housing of the optical reflector, required by the operator's specifications.
.
Ask information on this product: