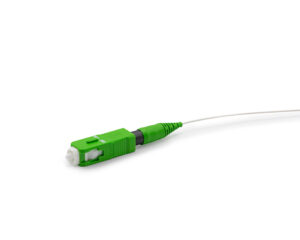 The Splice-on Connector, or SOC fusion connector allows the realization of optical termination without the use of pigtails. SOC is mainly used in FTTx applications.
The fiber of the main cable, in fact, is directly spliced to the fiber, inside the connector, avoiding to splice the drop cable with the pigtail.
The Splice on connectors available on the market were developed directly by the producers of the splicers, which guaranteed their total compatibility with the instrument. This forced installers to use a single type of SOC.
The SOC made by Fibernet has been specifically designed to offer to the operator not only a high quality product simple to assemble in the field, but even universal and compatible with most of the splicers on the market.
This connector basically consists of a factory pre-polished ferrule, which meets all the geometric and optical requirements of the international standards and regulations in force.
SM G.657A optical fiber ready for fusion splicing operations with the 900 μm cable is connected to the zirconia ferrule, with APC finish at 8°.
The protection of the splice area is entrusted to a 28mm long heat-shrinkable joint that will be contained within the main body of the connector: the choice of making this component in nickel-plated copper guarantees greater protection to the most delicate part of the connector, easily containing the posterior tail, the spring and the ferrule in the front
In order to ensure maximum compatibility, the R&D department has also developed a holder suitable for installation on different splicers, precisely in order to make the connectorization operations easy and effective.
Ask information on this product: