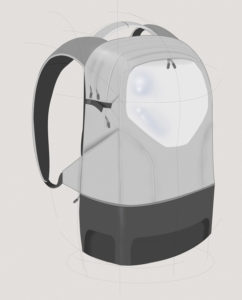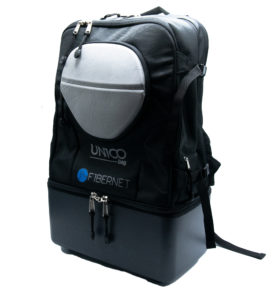 In order to complete Un1co's product family, Fibernet developed an all-in-one backpack, which is primarily directed to FTTH delivery's installators.
The initial idea was to create a compact system, easy to transport, suitable to accommodate a specific instrumentation for building's activations, but also the equipment, laptop and all the products necessary for building (floor box, branches, studs, braces …) and also Un1co mobile.
All the analysis of the most suitable materials for the realization of the product was followed by the prototyping and modification of the interior parts according to the criteria of greater work functionality.
The rigid and padded base, with safe housing for the most delicate optical instrumentation; the shoulder straps have an ergonomic shape to ensure maximum transport comfort for the operator..
In addition, a system for the transport of a light tripod has been designed to be used as a support for the Un1co mobile: this offers the entire operator to have always a practical portable work surface with him.
The dimensions, 35x20x60 cm, allow to develop an internal capacity of 30 liters
Visit the website
Ask information on this product: